Overview
DealerAddendums.com is an online subscription service for new and used vehicle dealers. Easily print customized vehicle addendums, buyers guides, and info sheets from your computer, tablet or our new iOS app.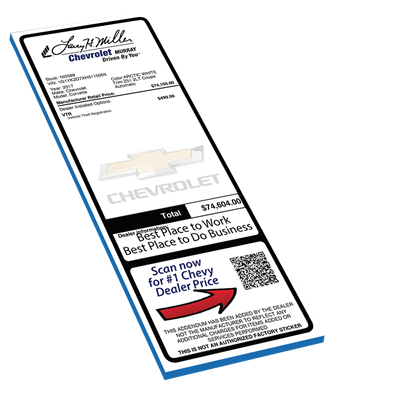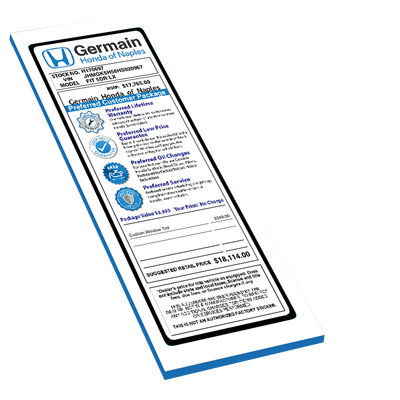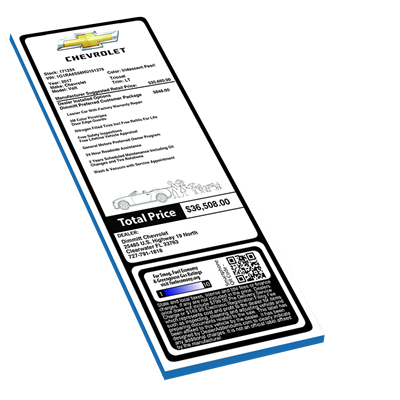 Print in Seconds
Automate the process!
1. Select Vehicle(s) : Select your vehicle, or vehicles. You can search by stock, VIN or model.
2. Add Options : Use the default options to automatically add options based on Model, Bodystyle, or Trim.
3. Print : Print one at a time or use the batch function to print up to 50 at a time. Print using ANY laser printer.
4. iOS App : Installers can use our iOS app to print from anywhere on the lot.
Dealership Logo
Upload your high resolution color logo.
Branded Options
Enhance descriptions and item names with logos of your preloaded products.
Watermarks
Choose from optional watermarks for your dealership's brand(s)
Custom Infobox
Choose from QR/SMS Lead capture, Dynamic QR Codes, VIN Barcode, product marketing or color matched vehicle images.
Vehicle Data
Choose what vehicle information to show, the data's font size, and if you want it bold
Vehicle Options
Enter your options once and have them auto applied to specific vehicles based on model, trim, year and mileage. (Unique to DealerAddendums.com)
Custom Templates
Watermarks, border colors, special fonts, product images, you name it, we can make it happen.
Personal Support
Don't worry about learning all the ins and outs of customization, we'll do it all for you... for free.
User-Friendly Application
1000+ dealerships
Dealers have been using our platform since 2014. During that time we have listened to our users and made over 32,000 incremental updates.
The videos to the left show what we do, and the problems our platform solves for dealerships.
See how Bob solves his addendum problem using DealerAddendums.com
Allan shows you how to print addendums in 30 seconds or less.
Take a look and remember you can always call us to answer any specific questions.
Features
NO CONTRACT, MONTH-TO-MONTH, AND INSTANT FREE TRIAL
Vehicle Addendums
Print beautiful, full color or black and white, addendums in seconds. Add your dealer pre-installed options to increase your profits!
Inventory Integration
Our Automatic plans update your inventory every night with data from your website, syndication provider, or direct from your DMS. No more manual data entry!
Native iOS App
The DA Installer app allows remote users the ability scan VINs, QR or Barcode and then create, manage, and print addendums remotely. Print from app or que them up for later printing.
Vehicle Options
Apply options to a vehicle addendum based on preset defaults. Options can be manually added or automatically added based on any combination of: Year, Model, Trim, Bodystyle and Mileage.
Info Sheets
Easily print Pre-Owned and CPO Vehicle Information Sheets, with your logo and vehicle details, description, options, QR code, and optional PureCars integration.
Buyers Guides
As-Is, Implied, or Warranty Buyers Guides in English and Spanish can be printed in seconds with the click of your mouse.
SMS Lead Generation
Our SMS from a QR Code directs buyers to your VDP and then captures their Name, Phone and Vehicle of interest. The QRs print right on your addendums.
NO CONTRACTS
There are never any contracts, set up or cancellation fees. Use the system for as long as it's a fit, cancel when it's not.
Example Addendums
Here are a few examples of "Real" Addendums in use.
Dealer Groups
We do business with almost all of the largest Dealer Groups, here are a few...