Overview
DealerAddendums.com is an online subscription service for new and used vehicle dealers. Print Vehicle Addendums, Buyers Guides, and Info Sheets from your computer, tablet or iPhone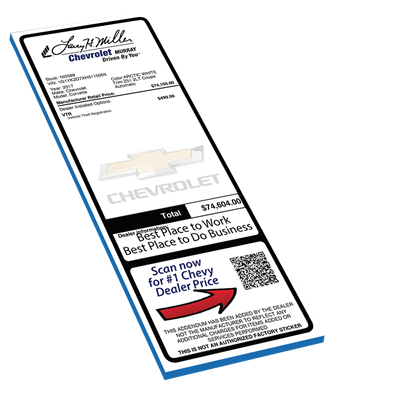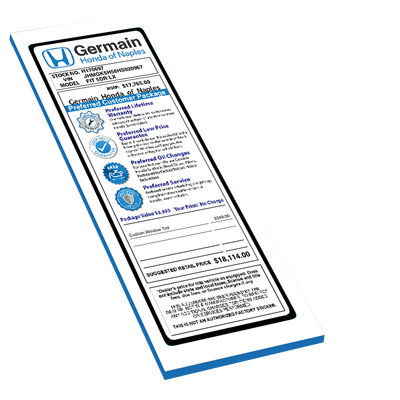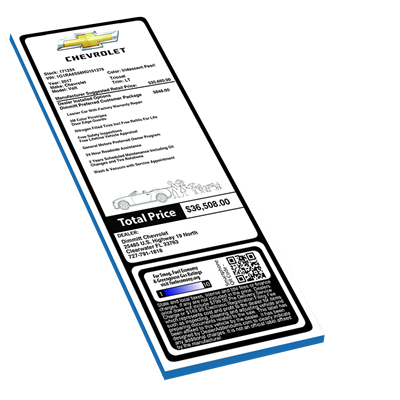 Create Addendums
Addendums in Seconds
1. Select Vehicle(s) : Select your vehicle, or vehicles. You can search by stock, VIN or model.
2. Add Options : Use the Default options to automatically add options based on Model or Bodystyle, or choose from a dropdown list of common options
3. Print : Print one at a time or use the batch function to print up to 50 at a time. Print using ANY laser printer.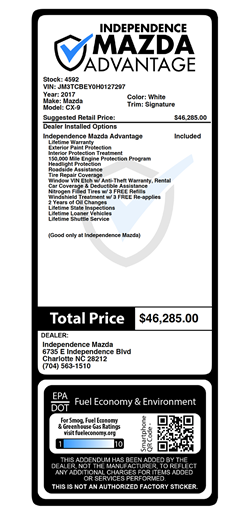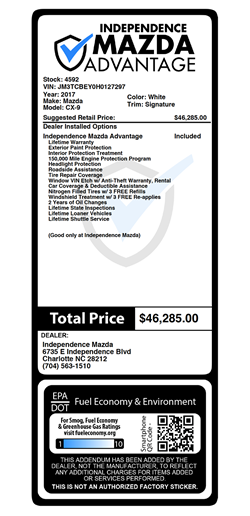 Dealership Logo
Upload your dealership, or group logo in fill high resolution color.
Inventory data
We can pull from your website, or DMS and you choose what specific vehicle info to print.
Custom Footer
Choose from EPA, QR Code, VIN Barcode, product marketing, or upload your own image.
Vehicle Options
Enter your options once and have them auto applied to specific vehicles or choose them from a dropdown. We make it easy to print one or a hunders addendums at a time.
Customization
Watermarks, border colors, special fonts, you name it, we can make it happen.
Personal Support
Don't worry about learning all the ins and outs of customization, we'll do it all for you... for free.
User-friendly Application
800+ dealerships
We have been doing addendums since 2014 and have over 800 happy dealerships.
The videos to the left show what we do, and the problems we solve. Take a look and remember you can always call us to answer any specific questions.
Features
NO CONTRACT, MONTH-TO-MONTH, AND FREE FOR 25 VEHICLES
Vehicle Addendums
Print beautiful, full color or black and white, addendums in seconds. Add your dealer pre-installed options to increase your profits!
Inventory Integration
Our Automatic plans update your inventory every night with data from your website, syndication provider, or direct from your DMS. No more manual data entry!
Native iOS App
The DA Installer app allows remote users scan VINs from window, QR or Barcode and then create manage and print addendums remotely. Print from app or que them up for later printing.
Vehicle Options
Apply options to a vehicle addendum based on preset defaults. Options can be manually added or automatically added based on model and/or bodystyle.
Info Sheets
Easily print Pre-Owned Vehicle Information Sheets, with your logo and vehicle details, description, options, QR code, and optional PureCars integration.
Buyers Guides
As-Is, Implied, or Warranty Buyers Guides in English and Spanish can be printed in seconds with the click of your mouse.
A SaaS Application
DealerAddendums is a web based solution with an iOS app, so there is no software to install, and you are always working on the latest version.
NO CONTRACTS
There are never any contracts, set up or cancellation fees. Use the system for as long as it's a fit, cancel when it's not.
Example Addendums
Here are a few examples of "Real" Addendums in use.
Trusted by these groups and many more!
Who
We are a team of dedicated entrepreneurs who love solving problems worth solving.
Communicate
Made and managed with love from Friday Harbor, WA
Start out on a FREE 30 day trial
Print 25 labels then choose to upgrade. Never a contract, always month to month.
Trial/Manual Load
30 day trial gets 25 free prints
Print Addendums
Print Buyers Guides
Print Infosheets
Print QR Code Stickers
25 Free Labels
Single Vehicle Import
Excel Vehicle Import
Labels as Low as $.16 ea
4 Hour Email Support
Automatic - Web
Multi-Rooftop Discounts
Print Addendums
Print Buyers Guides
Print Infosheets
Available iOS app
Automatic Inventory Import
Single Vehicle Import
Excel Vehicle Import
Labels as Low as $.16 ea
24/7 Customer Support
Automatic - DMS
CDK | R&R | Autosoft
Print Addendums
Print Buyers Guides
Print Infosheets
Available iOS app
Direct DMS Import
Single Vehicle Import
Excel Vehicle Import
Labels as Low as $.16 ea
24/7 Customer Support
Sign Up Now
Sign up for a FREE ACCOUNT, then upgrade at any time ($75/Mo, $125/Mo, or $175/Mo)